Botanical Name: Matricaria chamomilla, Chamomilla recutita or Matricaria recutita (Compositae / Asteraceae)
Common Names: German chamomile, Hungarian chamomile, mayweed, sweet false chamomile, true chamomile
Medicinal Part: Flower Heads (Fresh or dried)
Related Species: Roman Chamomile (Chamamaelum nobile) is used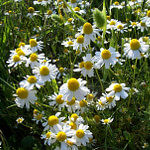 similarly to German Chamomile.
Contraindications: Known allergy to the Compositae family
Description: Chamomille is a sweetly aromatic annual growing to 2ft. (60cm) with finely cut leaves and white and yellow flower heads.
Chamomile is a gentle herb known throughout most of the world which has been used continually for many centuries. Members of the Asteraceae
family, these aromatic herbaceous plants have white daisy like flowers and scent reminiscent of apples or pineapple. In fact, the common name "chamomile" is
derived from the Greek word kamai which translates to "on the ground" and melon which means apple. Accordingly, the Spanish name Manzanilla, means "little apple."
Habitat and Cultivation: German Chamomile grows wild and is cultivated in much of Europe and other temperate regions. The seeds are sown in Spring and Autumn and the flower heads are collected when they are mature and expanded, from June to August. They should be dried carefully in the shade and stored in a cool dark place.
Cautions: The fresh plant can cause dermatitis. Do not take the essential oil internally except under professional supervision. Do not use the oil externally during pregnancy. The plant should be used in caution during pregnancy as it is a uterine stimulant, but tests have shown no increase in the frequency or malformation of the foetus.